Martina – Spanish teacher
¡Hola! My name is Martina, I was born in Argentina and I grew up in Spain. I studied Hispanic Philology at the University of Barcelona, where I also completed a master's degree in Advanced Studies in Spanish and Latin American Literature. In 2013, I started teaching Spanish at different language schools in Barcelona, as well as private tutoring. Besides language and literature, I love traveling, and in 2018, I decided to come to Melbourne, where I have been teaching Spanish ever since.
Alejandra, Spanish Teacher
Judith – German Teacher
I was born in Berlin and have spent most of my life there. I studied English Language and Literature and Political Science at Freie Universität. I started teaching German while completing my studies and have since been lucky enough to work at several different language schools. This has allowed me the opportunity to teach in different teaching formats (face-to-face, online (especially Zoom)) with students from all over the world who have come from all different social and educational backgrounds.
Berlin is a wonderful and extraordinary city, but I wanted to move to Australia to teach German here and encourage people's curiosity for Germany.
Teaching has become my passion and I thoroughly enjoy discussing all the different aspects of the language, such as the widely-feared German grammar, it's weirdly long words (we call them compounds!) and explain that Oktoberfest and Lederhosen is not the only German tradition worth knowing!
Elena – Russian Teacher
My name is Elena and I come from St Petersburg.
I studied linguistics at the Pedagogical University of St Petersburg where I obtained a Ph D in teaching Russian as a foreign language in 2003. After some years of teaching Russian for foreigners at university and an international school in St Petersburg, I started to travel and teach Russian wherever I went: Switzerland, Lebanon, Jordan, and finally Australia. In 2009, I arrived in Melbourne and started to teach at the East Melbourne Language Centre.
Music has always been a big part of my life. I really love singing and do it whenever I can. After my first daughter was born, I started to work on my own project: teaching Russian to children through music. I now have two trilingual girls and teach Russian to all ages from 2 to 99 years old.
What makes me happy? I like to draw from my life experiences to inspire my lessons and let my lessons inspire my life.
Elena, RussianTeacher
Ann-Kathrin, German
Ann-Kathrin – German Teacher
My name is Ann-Kathrin and I moved from Germany to Melbourne in 2018. Growing up in a very little village in Germany has been very nice, but I always knew that I wanted to get in touch with other cultures and languages. Studying Asian Studies (Arabic, Indonesian, linguistics) in Bonn (Germany) and Amman (Jordan) opened a whole new world for me. For my Master's degree I chose Comparative Religions (Islam, Baha'i, Zoroastrianism, Farsi, Turkish) in order to understand the cultural background of the languages I had learnt. I always have been enjoying learning different languages at lot. Therefore, I am still attending different language classes besides being a teacher.
I am absolutely passionate about my job. I want my students to have a great time learning a foreign language. It is very important to me that learning a language is not only associated with hard work and dedication, but also with a lot of fun. Therefore, I am very keen on choosing and creating interesting and helpful classes or my individual students. Furthermore, I am a holder of the DaF Goethe-certificate in teaching German as a foreign language.
Phillip, German Teacher
I grew up in the west of Germany in a town between Düsseldorf at the German/Dutch border. After my tertiary studies of German, History and Intercultural Education at the University of Duisburg-Essen and Heinrich-Heine-University Düsseldorf, I worked in several educational institutions, predominantly as a secondary school teacher and a teacher of German as a foreign language for immigrant communities.
I moved to Melbourne in January 2017 and am excited to share my enthusiasm for the German language and literature with the students of the East Melbourne Language Centre. I'm also looking forward to making the most of the diverse language courses offered so that I can broaden my horizons and become more familiar with the international community, not only while travelling, but also in my daily life.
In my free time, I enjoy exploring Victoria's beautiful landscapes on hiking trips with my dog.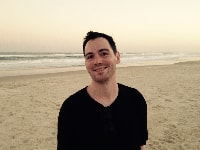 Phillip, German Teacher
Julita, German Teacher
Julita – German Teacher
I am from Szczecin, Poland but I was living in Berlin and Vienna before I decided to move to Melbourne. I studied Applied Linguistics at the Warsaw University and worked as a German and English language teacher for 7 years. After that I worked for the Polish embassies in Germany and Austria, which helped me get to know the culture and politics of these countries better.
I decided to move to Australia because I love the sun and the ocean (two things Berlin didn't have;-) ).
As languages are my passion I wanted to make it my profession again and I am very happy to be part of the Language Centre team because of the amazing atmosphere, helpful, friendly staff and the fun and motivated students.
Liudmila – Russian Teacher
My name is Liudmila. I was born and grew up in Moscow and moved to Australia around 10 years ago. I have a Masters degree of teaching Russian and Literature and have been teaching Russian for more than two decades. I have enjoyed and continue to enjoy sharing my passion for the Russian language, culture and its rich history with hundreds of foreign students.
Embracing my passion for educating, I thrived in my role as an official guide around Moscow's- historical buildings, exhibitions, culture & architecture – for tourists (local & foreign) & dignitaries.
Teaching is a fantastic vocation, with some of my students now life-long friends from various cultures and backgrounds. Travelling to Italy many times has allowed me to enhance my Italian and indulge my love of travelling, football (soccer!) and the open ocean.
I would like to introduce Russian language and culture to my students here at the EMLC and together we will try to find the key to a "mysterious" Russian soul and understand the Russian mentality …Russia is a great country as are its people, history and culture.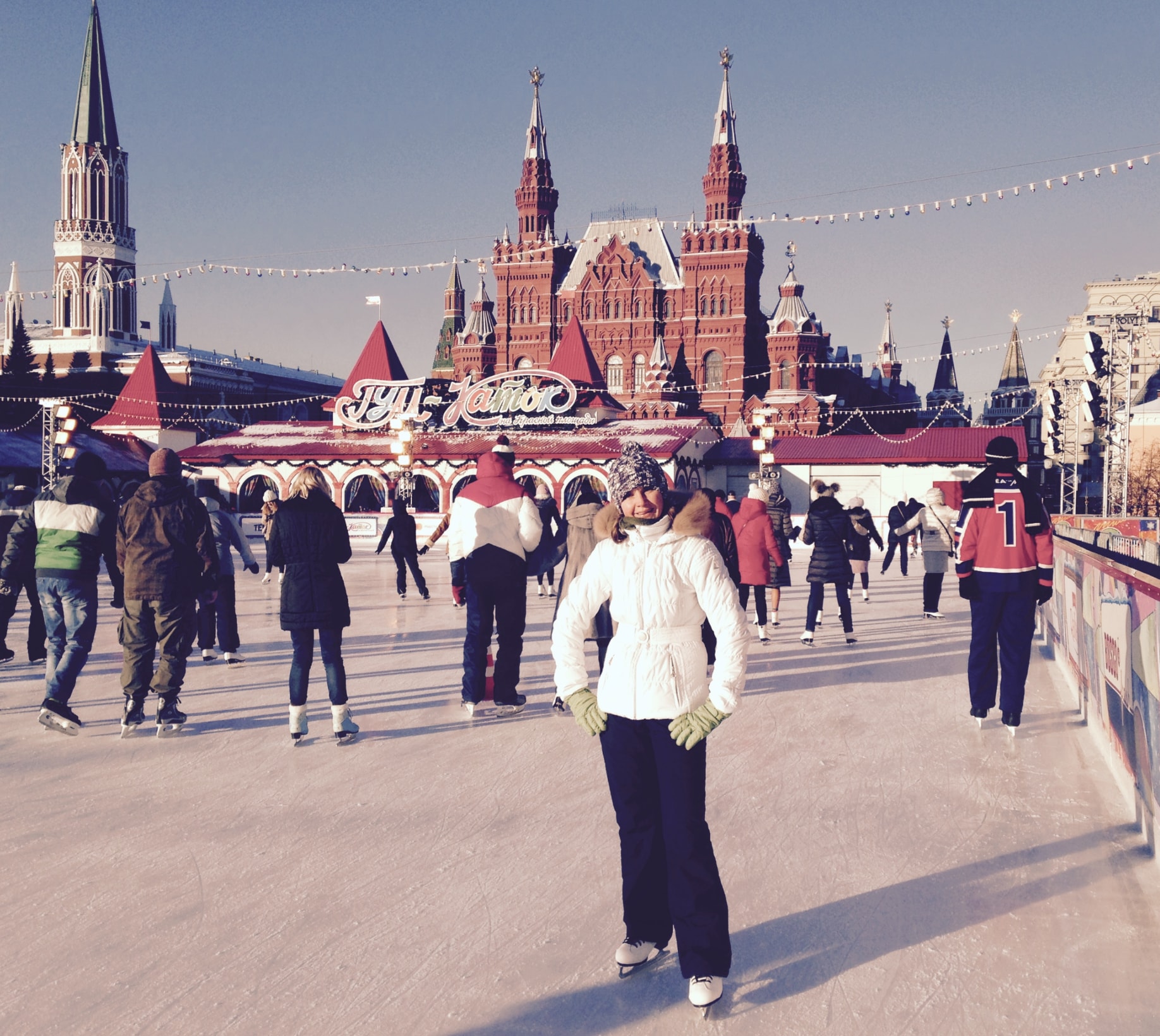 Liudmila, Russian Teacher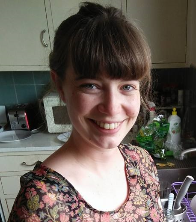 Francesca, German Teacher
Francesca – German Teacher
Having studied German at Monash University and spent time living in Austria (Klagenfurt) and in Germany (Berlin) I have come to really appreciate the value of learning a foreign language – there are so many advantages: one can get to know a new culture, a new way of seeing the world, meet new people and improve one's understanding of how languages work and inform our world view, among other things!
I thoroughly enjoy tutoring German and am excited to have the opportunity to teach at the East Melbourne Language Centre and to help others to also experience all these advantages of learning a new language.
Iraj – Arabic Teacher
I was born in Australia from parents who migrated here from the Middle East.  Being always curious about that part of the world, I ended up as a young adult living for five years in Cairo, Egypt, where I completed a Bachelor's degree in Arabic literature.  Since then, I made the study of Arabic into a full-time career. From Egypt I traveled to the United States, where I did two Master's degrees and I am currently completing a PhD at Yale University focusing on Arabic travel narratives from the early Ottoman empire.  For the last three years, as part of my doctoral program, I taught Arabic at all levels to graduate and undergraduate university students. Towards the end of 2017, I returned to Melbourne and soon began teaching at the East Melbourne Language Centre.
Learning Arabic can be a challenging undertaking, but full of rewards for the student who perseveres.  It is a process that is often fun, but bound to be frustrating at times.  As a teacher, I try to make the process more engaging and stimulating by frequently relating class material to various aspects of contemporary culture in the Arab world.  In addition to teaching students the skills to read and converse in Arabic, my goal is also to impart to them an appreciation for the amazingly rich heritage and culture of which the language is the prime embodiment.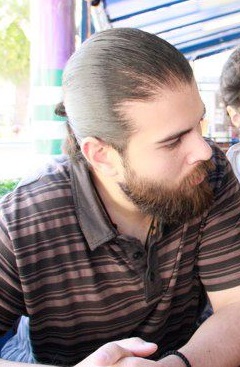 Iraj, Arabic Teacher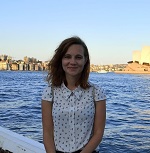 Marlene, German Teacher
Marlene – German Teacher
My name is Marlene, I grew up in the small city of Minden in central Germany. I completed a Masters in Trans-Cultural Studies in Bremen during which I also used the opportunity to live in Mexico and Latvia. Throughout my studies and work, I focused, among other things, on foreign language education and autonomous language learning.
I have always loved travelling, exploring different countries, their cultures and languages. In 2018 I moved to Australia and undertook a further education course with the Goethe Institute. I am very passionate about teaching German and am excited to be part of the East Melbourne Language Centre team.
May – Mandarin Teacher
I am from Mainland China. I have been working at the East Melbourne Language Centre for more than 10 years. I am a qualified Mandarin teacher and I love my job. There is a great atmosphere at the school and I have the opportunity to meet people from different backgrounds and to help my students to improve and overcome the challenges of learning a new language. I also like traveling and try to discover more about Australia and the world, and I am just starting to develop a new interest in getting and keeping fit.
.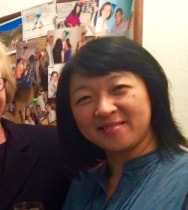 May, Mandarin Teacher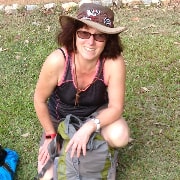 Marlies, German Teacher
Marlies – German Teacher

Marlies is from the Allgäu, a region in Bavaria, Germany. She  originally studied Biology and Chemistry at the Technical University of Munich and worked as a science teacher. She did a PhD at the faculty of Environmental Chemistry and worked as a researcher at the Institute for Radiology and Environment in Munich.
In 1996 she came to Australia and wanted a change from science. As she loves languages herself (she has learned some Latin, Spanish, French, Italian, Danish, Greek, Chinese and Swedish…to mention them all!!) she began teaching her mother tongue. In 1997 she started working at the German Language Centre which means she has contributed more than 20 years of fantastic teaching!
Marlies loves the atmosphere at the German Language Centre, as well as the very friendly staff & the students who all come for different reasons and are so enthusiastic.
Marion – French Teacher
I was born in Dijon, Burgundy famous for wine and mustard. After studied law in France, I came to Australia as a backpacker in 2007. I found love and decided to move permanently. While I was expecting my first child, I did a diploma of teaching French as a foreign language accredited by the Alliance française.
I've been teaching French for nearly 8 years now to different level and public. My passion is to meet new people from different background and share language and culture. I've been trying to learn a few languages myself (Italian, Spanish, Mandarin, Arabic). I love travelling, discovering new places. In my spare time, I like going for road trips, walks and bike rides with my family.
Sylvie, French Teacher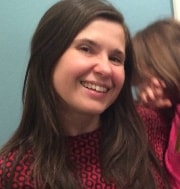 Marta, German Teacher
Marta – German Teacher
Marta was born in Köslin in Poland. She moved to Germany with her family when she was  5 years old. Later she studied at the University of Konstanz, where she attained her Master of Linguistics in 2005.
In 2008 she decided to move to Australia. Here she completed her Certificate of Business in Sydney in 2009, and decided to stay.
She speaks German, English and Polish and is now taking on the challenge of learning Arabic. She has started teaching German and English while studying in Germany and continues to do so in Australia.
She has been working at the East Melbourne Language Centre since August 2014. We are very happy that she is putting her experience, motivation and enthusiasm into the school as well as into her classes. She has a sunny personality, which she happily shares with us, and her students.
Marta absolutely loves her job because she enjoys meeting and working with different people and sharing her culture and heritage with.
Moritz, German Teacher
Moritz – German teacher
Moritz was born and raised in Berlin, a city he still loves and visits regularly. There he studied initially law, then social work and -pedagogy. After traveling extensively he moved to Australia in 1994 to live with his partner. After retiring from full-time work as a policy advisor in Melbourne and Wellington, New Zealand in 2018, he made his love of the German language, culture, history and geography his profession and became a teacher for German as a foreign language.
"For me language is a means to communicate, to be inspired, to share humour and form relationships. I recognise, that different people learn languages in different ways and try to apply different teaching methods and tools to meet these needs."