Valéria , Italian and Spanish Teacher
I was born in Cagliari, the capital of a beautiful Italian island called Sardinia. There I studied both languages, Italian and Spanish. After spending a year at the University of Barcelona in 2010, I knew that I had to pursue my passion in teaching languages. Now I hold a C2 certificate in Spanish and I have worked for the official DELE exams as collaborator. During these years, I participated in congresses in Spain and Italy, where I had the opportunity to work on different literature projects. Moreover, after my Master's Degree in Foreign Languages and Literature, I gained experience at the University of Cagliari working for three years as Spanish teacher.
I have always been interested in teaching, so it seemed just natural as well to teach my mother tongue, Italian. My aim is to focus on students' language achievements and to always try to make the lessons easy-going, fun as well as effective.
I like work at the East Melbourne Language Centre because of the positive and spontaneous environment, where it's easy to communicate and have a good laugh while you are learning a new language. For me, Melbourne is the perfect international city where I can share my language,  my culture…and Mediterranean recipes!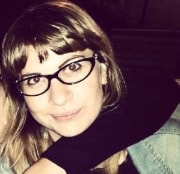 Valéria, Italian Teacher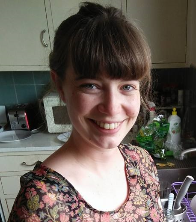 Francesca, German Teacher
Francesca, German Teacher
Having studied German at Monash University and spent time living in Austria (Klagenfurt) and in Germany (Berlin) I have come to really appreciate the value of learning a foreign language – there are so many advantages: one can get to know a new culture, a new way of seeing the world, meet new people and improve one's understanding of how languages work and inform our world view, among other things! I thoroughly enjoy tutoring German and am excited to have the opportunity to teach at the East Melbourne Language Centre and to help others to also experience all these advantages of learning a new language.
 Marlies, German Teacher

Marlies is from the Allgäu, a region in Bavaria, Germany. She  originally studied Biology and Chemistry at the Technical University of Munich and worked as a science teacher. She did a PhD at the faculty of Environmental Chemistry and worked as a researcher at the Institute for Radiology and Environment in Munich.
In 1996 she came to Australia  and wanted a change from science. As she loves languages herself (She has learned some Latin, Spanish, French, Italian, Danish, Greek, Chinese and Swedish…to mention them all!!) she began teaching her mother tongue. In 1997 she started working at the German Language Centre which means we are celebrating her 20 years with Marlies this year. Watch our event calendar for details!
We asked Marlies:
Why do you think people should learn German?
Marlies: If you like travelling knowledge of the language of your target country opens up the hearts of the native people wherever you go. Language opens up possibilities on the employment market here and overseas and last not least it keeps your brain active and is fun. Germany, Austria and Switzerland are great countries to travel to and speaking the language makes the experience much more enjoyable.
What do you like about the Language Centre?
Marlies: I love the atmosphere at German Language Centre (GLC) , the very friendly staff & the students who all come for different reasons and are so enthusiastic. I worked not so happily in other places and have been with the GLC for so many years now. I think that shows it all, does it not?
Share a little anecdote with us…
Marlies: Okay, as English is my second language and Australian English my x th language I had some trouble finding the right words in my first years or let's say pronunciation can be hard.
So: I had a beginners class with 12 men and one women. We learned about food and here it comes … I told them that in Germany most dishes are served with a side salad or "wedges" which was supposed to mean "vegies" and the whole class broke out in laughter. When asking why they are laughing there was only one brave student who would tell me. Guess who? The woman of course – the men were all cowards. But there I learned how important the correct pronunciation can be.
Learning with us here is fun and we can all laugh about our mistakes which need to me made in order to progress further.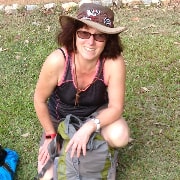 Marlies, German Teacher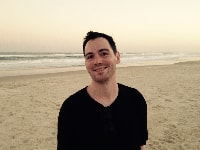 Phillip, German Teacher
Phillip, German Teacher
I grew up in the west of Germany in a town between Düsseldorf and the German/Dutch border. After my tertiary studies of German, History and Intercultural Education at the University of Duisburg-Essen and Heinrich-Heine-University Düsseldorf, I worked in several educational institutions, predominantly as a secondary school teacher and teacher of German as a foreign language for immigrant communities.
I moved to Melbourne in January 2017 and am excited to share my enthusiasm for the German language and literature with the students of the East Melbourne Language Centre. I'm also looking forward to making the most of the diverse language courses offered so that I can broaden my horizons and become more familiar with the international community, not only while travelling, but also in my daily life.
In my free time, I enjoy exploring Victoria's beautiful landscapes on hiking trips with my dog.
 Elena, Russian Teacher

Elena was born in the beautiful city of St. Petersburg in Russia, where she studied at the Pedagogical University and did her Ph.D. in teaching Russian as a foreign language. Besides Russian, she speaks English and French fluently.
After her postgraduate studies, she worked in a language school in the heart of St. Petersburg. Besides teaching Russian, she took part in cultural programs for the students and showed them the beautiful, historical city of St. Petersburg. She and her husband later moved to Lebanon and then Jordan, where she also taught Russian as a foreign language.
Elena came to Melbourne in 2009 and started to work at the East Melbourne Language Centre just a month after her arrival. We're more than happy that she is still with us after 6 years and still enjoys teaching in our school. We're lucky to have found such an inspiring and highly qualified teacher!
.
Elena, Russian Teacher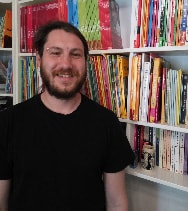 Andreas, German Teacher
Andreas, German Teacher
Place of birth: BadReichenhall
I've been working at the GLC since April 2014. I like the positive and relaxed atmosphere, the good relationship with students and colleagues and the variety of levels we get to teach! The students are always very motivated and up for a laugh. That makes it really fun to teach them. As a kid, I wanted to become a marine biologist and even during my studies, I never planned to be a teacher one day. Now I love my job here and at Monash University where I have been teaching for the last two years. I got so inspired that I am even doing my PHD in German Literature.
May, Mandarin Teacher
I am from Mainland China. I have been working at the East Melbourne Language Centre for nearly 9 years. I am a qualified Mandarin teacher and I love my job because of the great atmosphere at the school and meeting people from different backgrounds, and helping my students to improve when they take challenges to learn a new language. I also like traveling and try to discover more about Australia and the world, and I am just starting to develop a new interest of getting and keeping fit.
.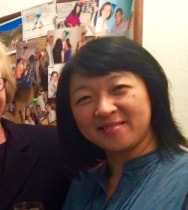 May, Mandarin Teacher
Sylvie, French Teacher
Sylvie, French Teacher
Originally from Toulouse, France.
I
 completed a Graduate Diploma of Education (secondary) in
 LOTE (French)/ESL at Monash University in 2004.
I since have been teaching French to secondary students. In 2009, 
I
 also started teaching French to adults.
I
 became a teacher because 
I
 a
m passionate about language learning
 and love interacting with students of all ages! 
I
t is always a thril
l for me to share my culture,
to 
see my students develop their communication skills
 and gain confidence in their abilities to speak and understand French.
I enjoy working at the Language Centre
 because students can learn a language 
from native 
speakers 
in a relaxed and supportive environment.
Marta, German Teacher
Marta was born in Köslin in Poland. She moved to Germany with her family when she was  5 years old. Later she studied at the University of Konstanz, where she attained her Master of Linguistics in 2005.
In 2008 she decided to move to Australia. Here she completed her Certificate of Business in Sydney in 2009, and decided to stay.
She speaks German, English and Polish and is now taking on the challenge of learning Arabic. She has started teaching German and English while studying in Germany and continues to do so in Australia.
She has been working at the East Melbourne Language Centre since August 2014. We are very happy that she is putting her experience, motivation and enthusiasm into the school as well as into her classes. She has a sunny personality, which she happily shares with us, and her students.
Why should people learn German?
First of all, learning German is a lot of fun. In what other language will you find words like:
Rindfleischetikettierungsüberwachungsaufgabenübertragungsgesetz
But that aside, Germany has a very interesting and beautiful cultural heritage, it is widely spoken and will, according to many experts, even improve your English vocabulary skills. It also teaches you a better understanding of English itself. I'd say that's reason enough!
What's the best about teaching?
I really enjoy meeting and working with lots of different people and sharing my culture and my heritage with them. This is true especially here in Australia, where German customs are lesser known, and are more interesting to foreign students, than they are to students from Europe.
When did you decide to become a teacher?
I actually didn't plan on becoming a teacher, but life sometimes takes an unknown turn. In this case, it was a very lucky development, and I now really love my job! I really enjoy working in the Language Centre. There is always someone to chat to and to have a laugh with. The atmosphere is always very relaxed; it's almost like being back home!
What do you do in your spare time?
In my free time I enjoy reading magazines like Der Spiegel or other news articles. I also watch a lot of documentaries; that is of course only when my little crazy 5-year-old girl allows me to have a spare moment. Besides that, I am "Living the dream", like they say in Sydney: My child loves Vegemite, my husband is a musician in Melbourne and my heart belongs to S
.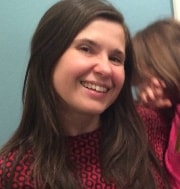 Marta, German Teacher