The sun is shining, it is 21°C outside and a gentle breeze is moving the leaves of the palm trees. Children are playing in the park, adults are enjoying wine, beer and the huge variety of food from the buffet. Everything is perfect for – a Christmas party?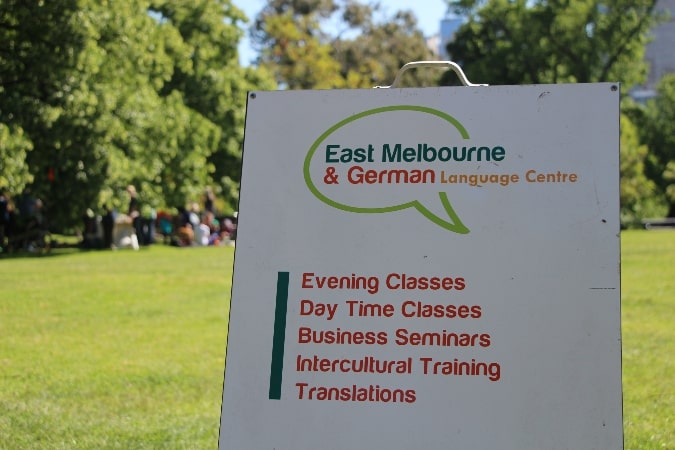 Depending on where you come from, you might associate Christmas with different traditions, places and food than other people. It might even be the case that Christmas is not celebrated at all in your family. We offer a variety of languages at the East Melbourne & German Language Centre and every nationality has their own way to celebrate Christmas. The Christmas party was a fantastic opportunity to find out about the differences and similarities between the countries where our students and teachers are from.
Whenever I hear of the word "Christmas", it reminds me of cozy evenings in our heated living room in Germany while it is snowing outside, candle light, gingerbread and decorated Christmas trees. I grew up with baking Christmas biscuits in the weeks leading up to Christmas eve, singing Christmas carols with my family and visiting some of the beautiful Christmas markets.
But my experience is certainly quite different to most people's in Australia. While Christmas is spent mostly inside the house in Germany, many Australians head to the beach due to the boiling temperatures to have a barbeque or a picknick. In addition, Santa is not accompanied by reindeers but by kangaroos instead. And these are only some of the differences between countries in the northern and southern hemisphere.
Therefore, it is not surprising that our Christmas party got some people into Christmas mood while others, including myself, felt more like having a summer party. Nevertheless, everybody had a great time practicing their language skills with their classmates and teachers or simply having a chat and trying the international selection of food from the buffet.
Our Russian teacher made Blini, our French teacher brought some canellés and it would not have been a Christmas party without typical Christmas confectionery like "Stollen" or home-made gingerbread and cookies. We also had plenty of fruits and vegetables, dips and crackers, slices and sandwiches to satisfy your sweet tooth or make sure that you are getting in your greens between all those Christmas treats.
Although everybody loves eating delicious food, there is something we loved even more. And that's what Christmas is all about – being surrounded by great people and spend some time together. This is going to be my first Christmas without my family but at the East Melbourne & German Language Centre's Christmas party it felt like being with a second family. Because there is something that unites us: Our passion of learning new languages and thus, becoming part of another culture.
Our motivation might be totally different: Maybe you need to learn a language for a business trip, maybe you are spending some time abroad and would like to be able to talk to the locals, maybe you would like to get a better VCE score or maybe you just love coming to the East Melbourne & German Language Centre to challenge yourself a little bit and have a laugh with the other students in your class. For our teachers and us, it is all about sharing the enthusiasm for our language and giving you an insight in our cultural background. We love having you in our classes and being able to pass on our knowledge, experiences and culture and promoting an intercultural exchange.
Since Christmas is also about reminding yourself what you are grateful for, we want to thank you for making this Christmas party possible. Thank you for learning with us and being a part of our big East Melbourne & German Language Centre family! Thanks for coming to the picknick and bringing your lovely families and tasty specialities along! We had a wonderful afternoon and hope to see you again at our party next year!
We wish you a merry Christmas, a happy new year and are looking forward to welcoming you back after our Christmas holidays, either in our summer courses in January or in term 1 at the beginning of February!